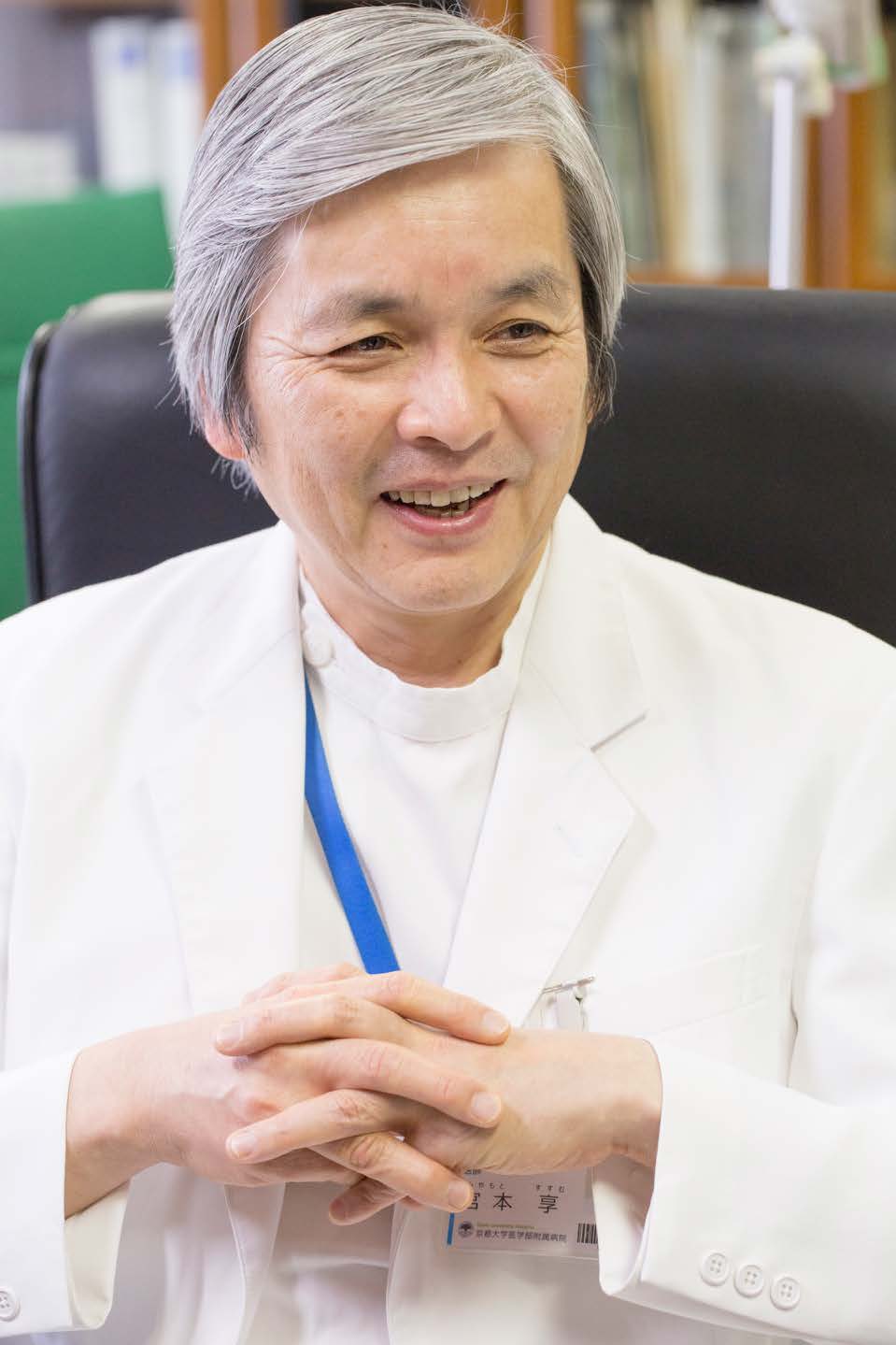 Kyoto University Hospital was established in 1899, we have a 120-year history.
We are committed to providing safe, relief medical care based on this three basic philosophy, (1) Providing safe and high-quality medical care as a patient-centered hospital (2) Contributing to society through the development and practice of new treatments (3) Fostering medical professionals with a sense of mission, responsibility as well as compassion.
At Kyoto University Hospital, capital investment plans, including the construction of a new ward and renovation of existing wards, have been progressing rapidly. In 2015, South Ward was newly opened and a heliport was built to provide emergency medical care in times of disaster. The following year, the Preemptive Medicine and Lifestyle Related Disease Research Center, which also offers medical examinations, was established.
And in 2019, Middle Ward was newly opened to respond to advanced acute care demand. Middle Ward has 90 bed of care units including Emergency and Stroke Intensive Care Unit, Maternal Fetal Intensive Care Unit, Neonatal Intensive Care Unit and Growing Intensive Care Unit.
Kyoto University Hospital is one of the top university-affiliated hospitals by number of emergency patients admitted. Indeed, several ambulances can often be seen in front of the Outpatient Emergency Unit at one time. To be going to greatly enhance our ability to treat emergency patients in critical condition, we are planning future-oriented reconstruction as below renovation of the Central Clinical Ward housing the Surgery Unit and the Emergency Unit.
While investing heavily in infrastructure improvements as outlined above, Kyoto University Hospital is certified as a disaster-response hospital. And to fulfill the responsibility of it, we have drawn up a business continuity plan in preparation for a large-scale disaster that may hit the Kyoto area in the future. However, more important than trying to create the perfect plan is to empower each department of the hospital to think, make decisions, and take action on their own in an emergency. Accordingly, we have established a system for each department of the hospital to conduct department-specific drills, to develop disaster risk reduction and business continuity plans, and to update the plans from time to time, in addition to conducting emergency drills and preparing plans for the entire hospital.
We rank high among national university-affiliated hospitals around Japan in terms of the number of surgical operations and offer an unrivaled, cutting-edge medical environment, both quantitatively and qualitatively. Our Surgery Unit is complete with a high-field intraoperative MRI system and a high-standard navigation system using a portable CT which is available only in Kyoto University Hospital, not to mention the da Vinci surgical robot, which enables less invasive and safer surgery and thus is used in many hospitals in Japan, and Hybrid OR combined with catheter intervention.
In 2007, Kyoto University Hospital became the first national-university-affiliated hospital to open a Cancer Center, where different clinical departments and medical professionals cooperate in the treatment of cancer instead of each clinical department treating their patients separately. The recent progress of genomic medicine and ICT has led to the development of innovative personalized medicine that enables us to combine cancer and individual patients' genomic information and provide treatment best suited to each patient. Kyoto University Hospital is one of the 11 hospitals in Japan that are designated as regional centers for genome-based cancer treatment, and as such, we are providing genome-based personalized medicine in cooperation with our 28 partner hospitals.
Conducting research on new medicine and developing new medical technologies is an important mission of Kyoto University Hospital as a core clinical research hospital. We are working with the Center for iPS Research and Application of Kyoto University to develop new treatment methods for intractable diseases, such as transplanting neurons produced from iPS cells into patients with Parkinson's disease and drug discovery based on research using disease-specific iPS cells.
We established Clinical Bio-Resource Center in 2017, to collect, manage and utilize human biological sample (clinical bio-resource) efficiently from patients and healthy persons at preclinical phase. It aims to make research result as drug discover seeds to connect to clinical stage. As a Trial Ward that these research result reach to clinical phase, "Kyoto Innovation Center for Next-Generation Clinical Trials and iPS Cell Therapies(Ki-CONNENT)" started to carry out iPS cell therapy and research to create novel treatment for cancer and rare disease.
We will provide safer, more effective new drugs and treatment methods into clinical application as early as possible.
At Kyoto University Hospital, we are striving to change the conventional way of working in various sections to reduce workloads as part of organizational reforms. We also offer comprehensive support to hospital staff with children to look after: our career support program allows doctors with children to work reduced hours, and our childcare support program allows staff of the in-hospital childcare center to pick up the children of hospital staff at childcare centers in Kyoto City, bring the children to the in-house childcare center and look after them during night hours. This fiscal year, the post of assistant to the director of Kyoto University Hospital was newly created, and the position is dedicated to assisting hospital staff. Also, another in-hospital childcare center will be opened in a few years from now. We will continue working hard to create an environment that fosters a team spirit among medical staff and motivates them to do their best.
As shown above, Kyoto University Hospital is a high-volume hospital with the latest medical, research and working environment. Hospitals exist to cure diseases and heal people who are suffering from diseases. Accordingly, we adhere to the principle of "For the patient" in the management of our hospital at all times. Providing safe and reliable medical services while remaining faithful to this core principle requires bringing together hospital staff of all levels, including doctors, nurses, pharmacists, nutritionists, laboratory technicians, physical therapists, and administrative staff, to work as a team.
All the hospital staff are determined to work together to meet the expectations of society. We look forward to your continued support and encouragement.
Susumu Miyamoto, M.D., Ph.D.
Director of Kyoto University Hospital